Marketing Automation for Mortgage Companies

Collect Feedback

Create Reviews

Share Reviews

Reply to Reviews

Syndicate Profiles
Collect customer feedback at every meaningful moment
Our team of CX experts works with your organization to map the most meaningful customer journey points and builds custom workflows to measure, analyze, and amplify each moment. Our templates include: application, mid process, VA, purchase, refi, post close, agent and partner, bi-lingual and more…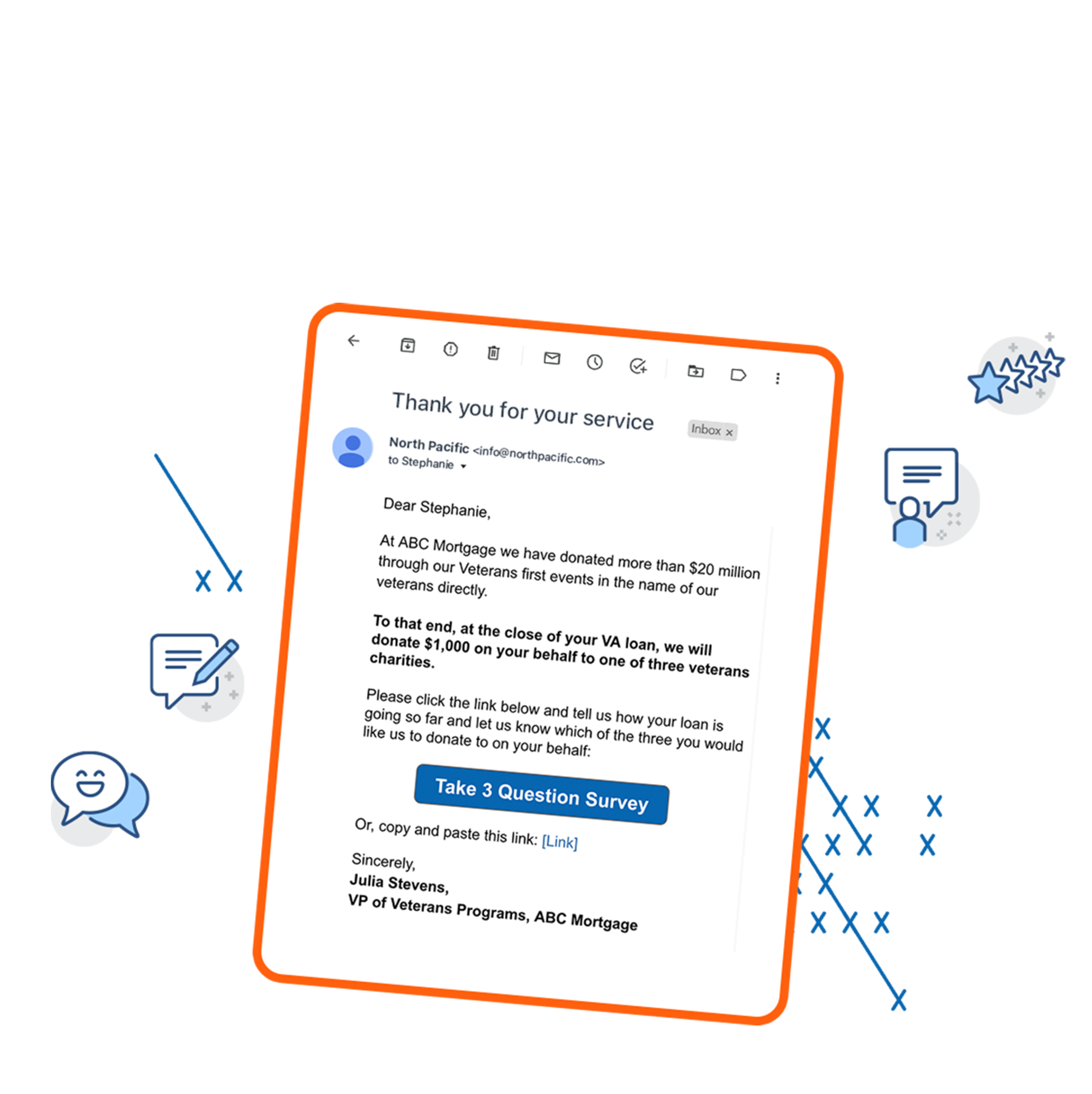 Power experiences at every moment
Our team of CX experts works with your organization to map the most meaningful customer journey points and builds custom survey campaigns to measure, analyze, and amplify each moment.
Expertly Developed Mortgage Template Example
Collect Post Close Feedback from Your Agents
Collect feedback from Buyers and Sellers agents, to create new agent relationships and enhance existing partnerships. Customize these to promote company programs or upcoming events.
Experience.com Helped New American Funding Grow Revenues by Winning in Local Markets
"In the first 18 months after moving to Experience.com's platform, we generated 35,000 customer reviews, and we have well surpassed our competition since then."
– Rick Arvielo, Co-Founder, New American Funding
New American Funding's Results
Be Consistent with Your Brand Everywhere.
Companies with more than one location find it difficult to manage and update their business information (physical locations, individual employee/agent locations) to many social and directory sites and ensure they are found accurately.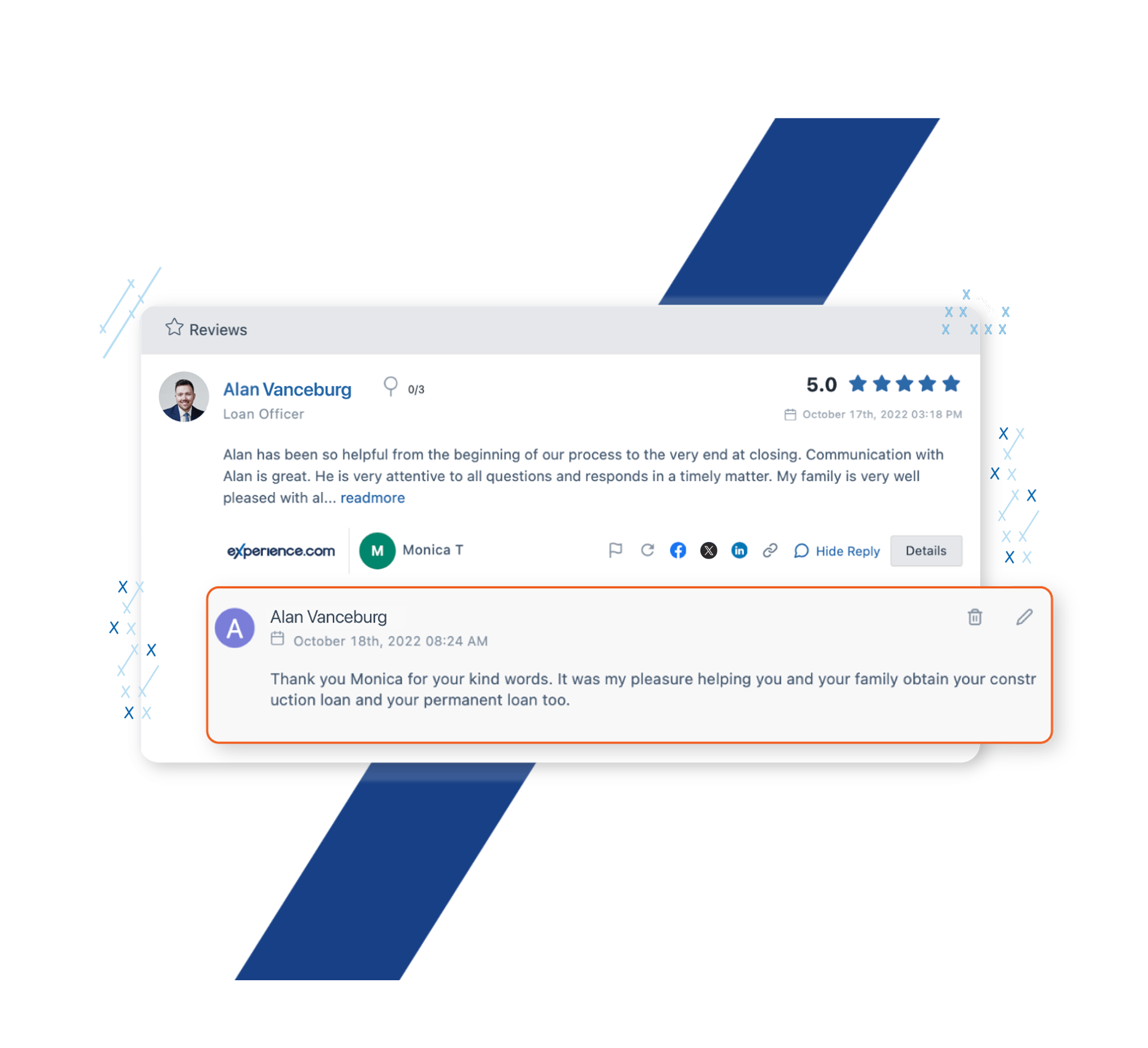 Capture, Share, Reply to Reviews
We collect primary reviews and then direct customers to secondary review locations (like Google) as needed by the business. This helps them win business in their local market on search sites. We can even allow professionals to reply to their reviews while allowing the company to manage and edit the replies.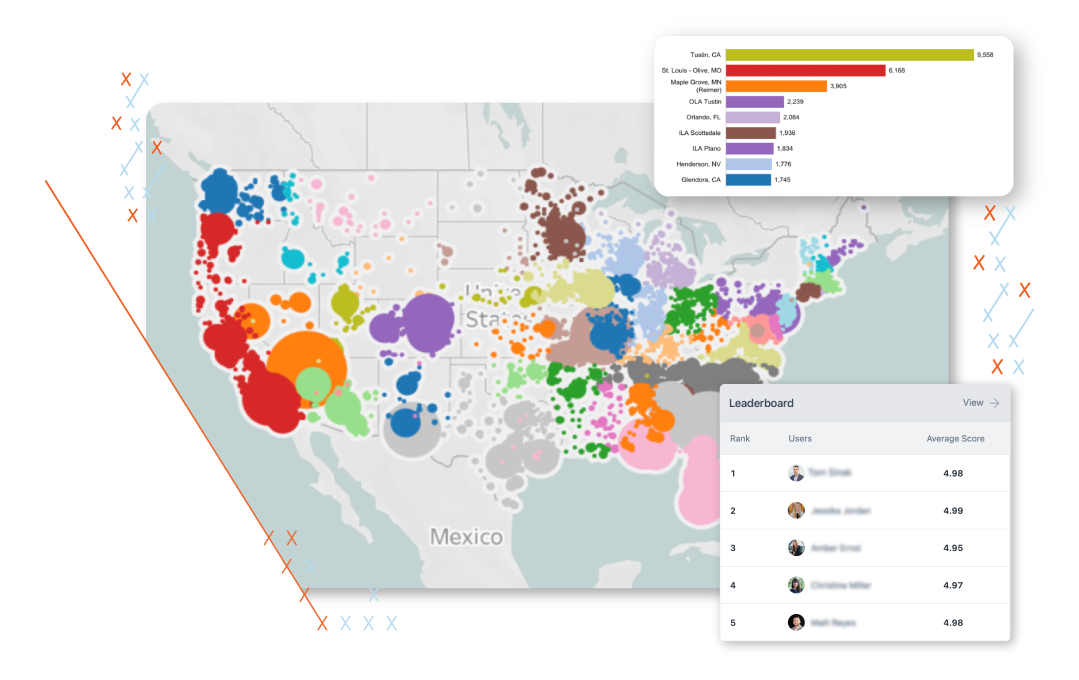 Advanced Analytics & Reporting to Power Your Business
Automatically collect CX data across the entire customer journey from application to post-close. Leaderboards, Dashboards by Agent, Location, Region, etc, and On-Demand Reporting are available to provide actionable insights in real time.
Our customers know best...
The new platform is so much stronger, more usable and has created incredibly positive impacts for our clients and their businesses.
Emma M.
100% all in! The platform offers so much for multiple different use cases. They are continually evolving and adding more.
Mallory M.
The auto-posting to salesperson's social platforms already provides quite a bit of value to sales!
Chris F.
I enjoy the different campaigns for real estate partners and for actual clients. The ability to create review widgets as well as track and report.
Michael C.
Let our platform make every experience matter more for your business.
Drive intelligent CX & EX feedback campaigns and use that feedback to amplify marketing, boost customer-focused employee behavior, all while building a strong brand reputation and culture.